On-premise Translation
Server
Enterprise solution for a secure translation of text and
documents within your organization.
Translation Server
Effectiveness
Enhancement of efficiency of company
employees operating with documents
in foreign languages.
Confidentiality
Information spillover risk mitigation by
means of omission of translation
online services.
Flexibility
Configuration tools for exact translation
taking business tasks into consideration.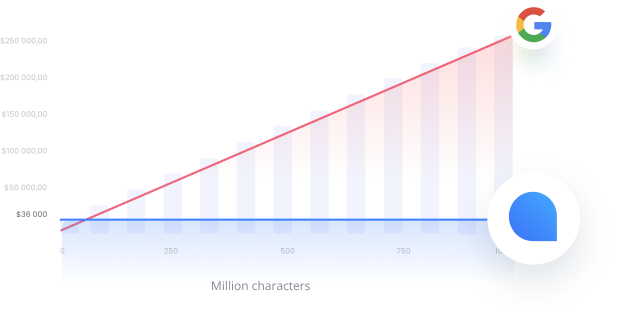 Cost Saving
With on-premise solution you can translate with no limits for a fixed price
Lingvanex offers this on-premises solution as a yearly subscription service that includes the design, deployment, and periodic update of the Translator service, which also includes updates to the language models. The web service is deployed on customer furnished hardware, providing that it meets the minimum system requirements outlined below. On-premise solution is a good choice if you need translation big blocks of text or documents on regular basis.
The more you translate the more you save in comparison to cloud based translation feature.
Free demo version for 7 days
You need a computer with OS Ubuntu 18, 32GB RAM, 100GB HDD and a Geforce GTX 1080 or newer graphics card.
108 Languages
An on-premise translation solution is run in house within the company's own infrastructure by its own IT team, who manage its deployment, installations, training, upgrades, security and maintenance. The On-Premises Lingvanex Translator Server is a web services API enterprise solution that performs fast, automated, high-quality text and document translations behind your corporate firewall. This allows customers with extremely confidential needs or without Internet connectivity to retain their data inside their own environment as it is processed by the translator engine. The service provides equivalent translations with the public Internet-hosted system, including the translation to 108 languages.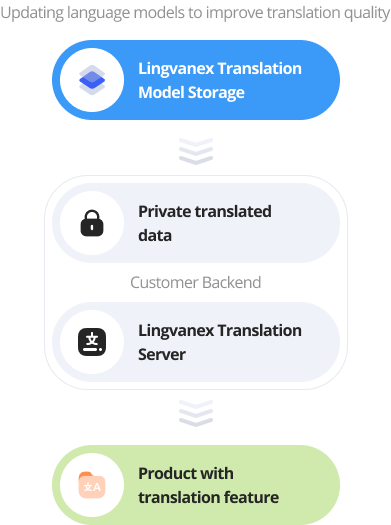 Easy Deployment
Easy to deploy on a corporate intranet or extranet, Lingvanex Translation Server increases enterprise collaboration and meets the translation needs of all employees. It supports unlimited user access, millions of translations per day, and seamlessly integrates with any business application and document workflow to help enterprises handle day-to-day multilingual challenges in collaboration, content management, eCommerce, customer support, business intelligence, knowledge management, eDiscovery, and procedures workflows.
Privacy Protection
We guarantee to users of our platform that all texts, pictures, audio files, documents, etc. are deleted immediately after the completion of a translation or other API operation, and also that the connection with our servers is always secure. This means that your data is not used for any other purpose, except for performing translation or other API functions, and also they cannot be used by third parties.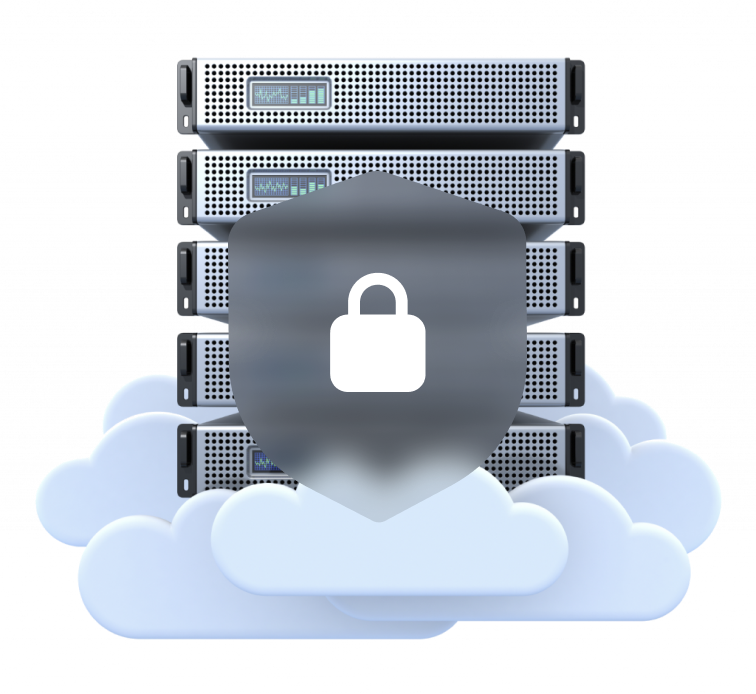 SUPPORT SERVICES
For a fast response to questions
E-COMMERCE
Localisation of product descriptions
CORPORATE CORRESPONDENCE
Communication in international
companies
SITE TRANSLATIONS
Translating website pages on the fly
INTEGRATION INTO SERVICES
As a addition to the basic functions
PRODUCT DOCUMENTATION
Software documentation, technical
documentation
Check the quality of the translation