Translator for Slack
Communicate with your teammates in 108 languages with Translator Bot for Slack
Let global teams to break language barriers
Lingvanex Bot can simply solve a language barrier problem in your team, community, with your international clients and outsourcing partners. It automatically identifies the languages in a conversation and translates all messages of your team members into a chosen language.
Automatic translation in channels
Add Lingvanex Bot to any channel in your workspace in Slack to automatically translate every message send to that channel. You don't need to copy-and-paste anymore. Just send your message in your native language, and within a few seconds, it will be translated automatically for all channel members to see.
This is a huge time saver!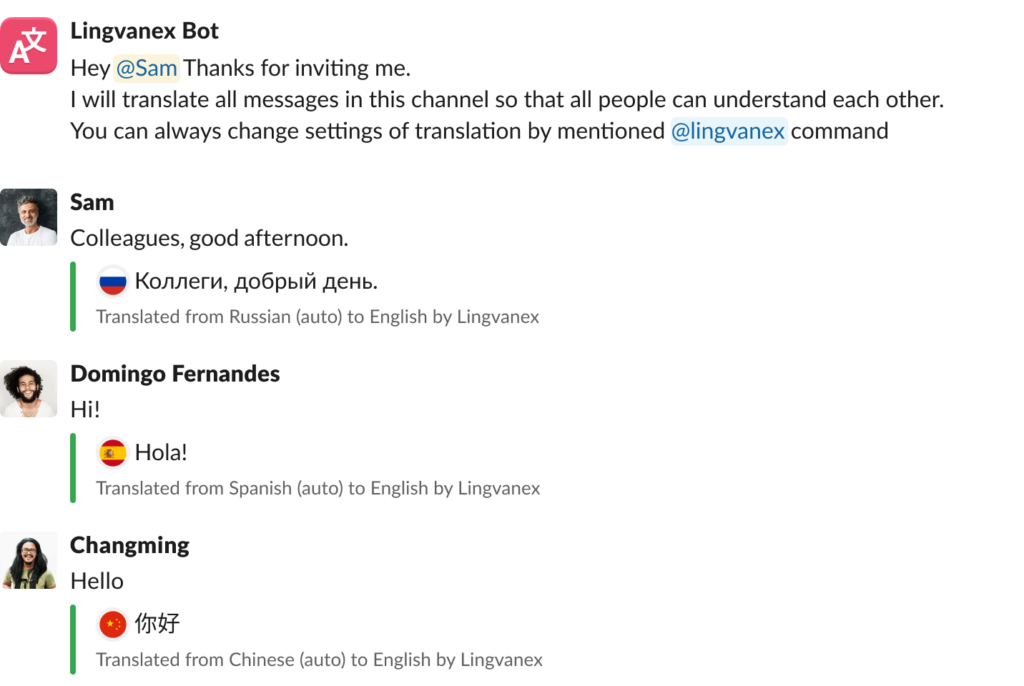 Translate teammate messages with a single 'click'
To translate a message in the channel, use the "more actions" menu or click on "…" in the message properties. In the menu that appears, select "Translate this message".
In the modal window, select the translation language and click the Translate button. The message will be translated into the selected language immediately on the same channel. The phrase in the original language is preserved.
Handy / translate command
Just one command you need. Use the following command to translate text quickly:
"/translate" "lang" "text" Where "lang" is a language code for the desired translation such as de, fr, es, etc. For example: translate "Good morning!" Or just type "/translate" to open translation dialog with easy language selection and entering the text.
Seamless integration
Lingvanex Bot can invisibly translate conversations in any channel without duplication of messages. To enable this feature, authorize the application with "/auth" command. Your team members will see a translated message send by you and the original text attached.
Prices exclude any applicable taxes
Install Slack Translator for Free