Language Assistant for all platforms
and any situations
Helps students, travelers, businessmen communicate with each other, read and listen in their native language.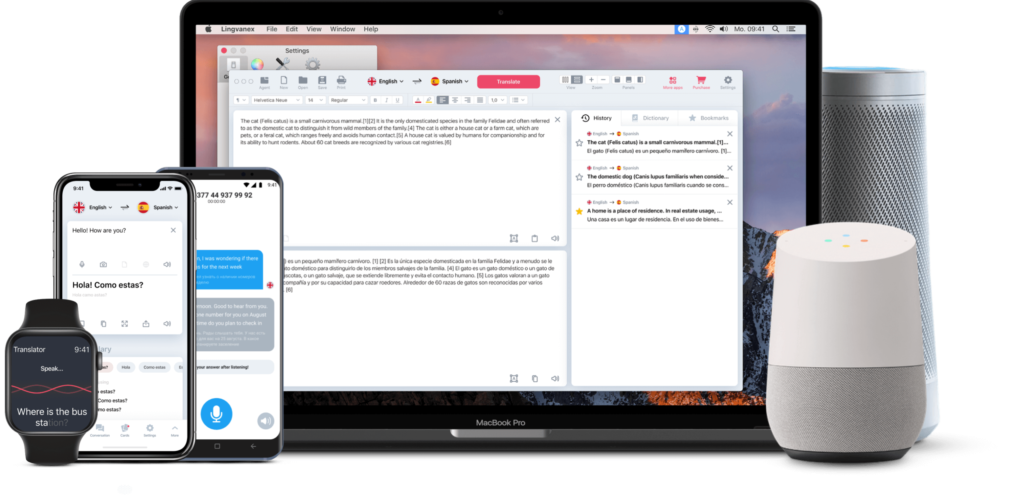 Voice, text and
photos translator
Translator into 112+ languages.
Online and offline translation.
Group conferences with translation.
Favorite translation examples.
Transliteration.
Auto detect language.
Translation history.
Study or work?
For app work intenet connection is not required.
WORK
Just install Lingvanex Offline on your desktop device.
STUDY
And translate regardless of external factors.
Phone call translator
You can call both mobile phones and landlines.
You can call all countries all over the world.
Translation is carried out in 30 popular languages.
The perfect helper for memorizing words.
Your speech will be translated into the language of the person receiving the call.
Your caller's voice will be translated into your language.
It's private. It's sparingly. It's clear.
We thought over everything and even
that!
Translate even on your wrist
Translator into 112+ languages.
Online and offline translation.
Voice translation.
Сonversation translation.
Or just ask your smart assistant
Voice translation in 50+ languages.
Enjoy your conversation on

foreign languages!

It helps in learning a foreign language.
Dialogue mode with real-time translation.
Dictionary of meaning.
Translate
everything just in
your browser
Lingvanex Translator is an automatic translation tool
Select any text, phrase or word on

the

website.
Get Translation.
Listen to the translation.
Communicate with
your friends and
partners
Translate text.
Get definitions of words – meaning of words, synonyms, alternative translation.
Seek examples of use and translation of expressions in context.
Translate voice messages and audio files into text.
Text voicing.
Translate the text on images.
Translate in group chats.